ODB at Making a Feminist Internet Africa!

Our Data Bodies was happy and grateful to be represented in the first Making A Feminist Internet convening held on the African continent at the end of October this year! The convening was hosted by the Association for Progressive Communications (APC) and took place just outside of Johannesburg, South Africa where ODB team member Kim M Reynolds took part in the four-day program of skill sharing, team building, and networking.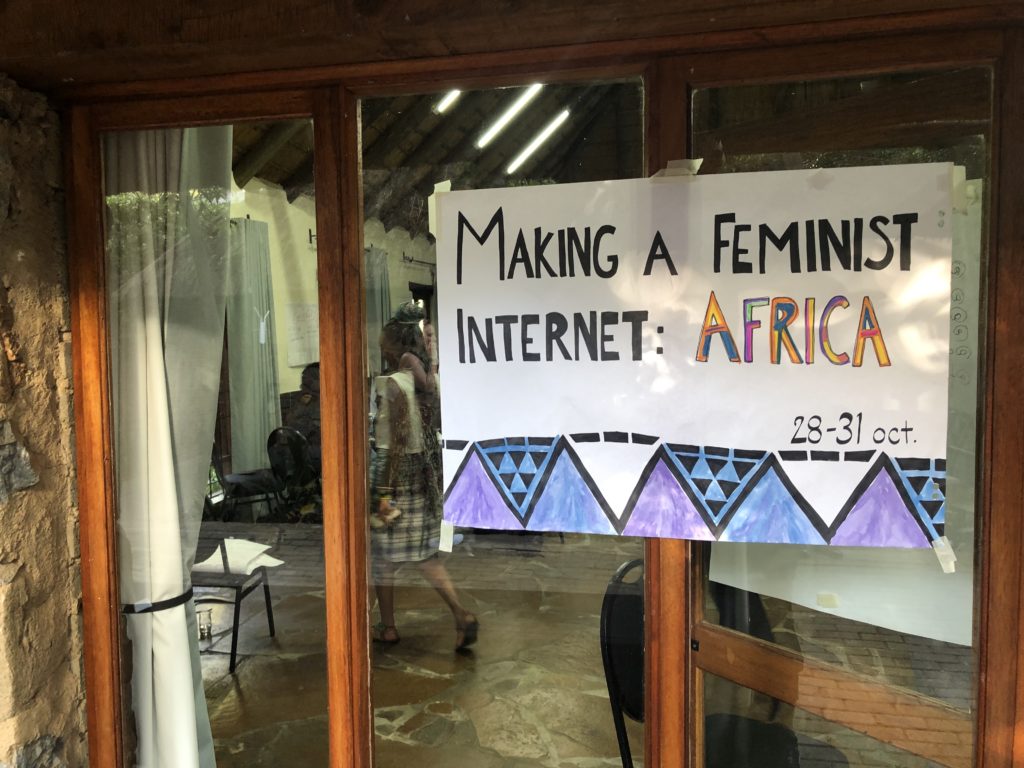 Making a Feminist Internet in Africa brought together over 50 people from 18 countries, most of which were on the continent, with the Black diaspora in the US and the UK being represented as well. The demographic of the convening ranged greatly in age, sexual and gender identity, and geographic location, with more than half of participants being over the age of 30, and about a quarter between 20-30 years of age. In order to take into account the risks that some are at in attending such a convening, APC practiced a process of ongoing consent when it came to sharing one's photo, presence, or words on social media.

The ethos of Making a Feminist Internet in Africa builds on the work and ethos of APC, which is to create and fight for a free and open internet, one that is principally oriented in a feminist lens. This means thinking about how to create and defend spaces for marginalized and targeted groups like sex workers or anti-oppression movement activists.

Over the course of the four days, conversations unfolded in small and large groups about the work that we are doing in our various contexts. We expanded our knowledge and skills sets by sharing these insights while being vigilant about asking–and answering–the question: "What exclusions are in place in the online space?"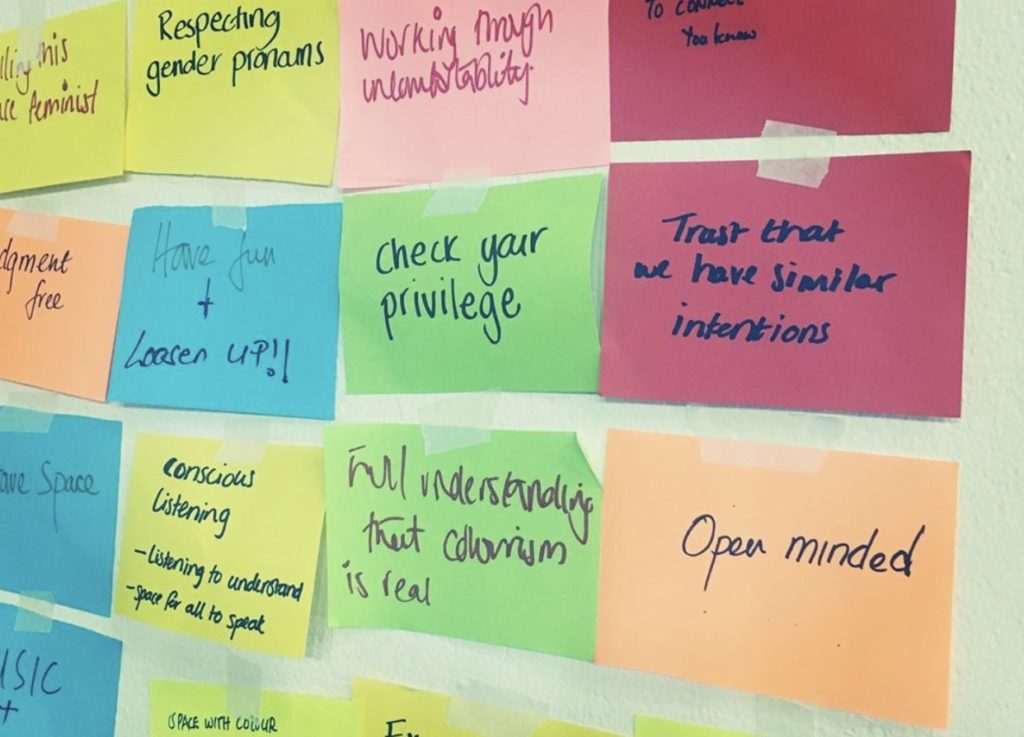 One of the most interesting considerations about data and surveillance was the regulation or lack thereof with m-pesa, Kenya's mobile money application that is widely used across the country. Thanks to provocations by Sheena Magenya, we began to think about what are the risks of tying one's mobile money to one's mobile number? What does it mean for the state to have your mobile number registered? What are the "conflicts of interest" and implications of data sharing practices? We noted that Safaricom, one of the biggest cell phone providers in the country, functions as both one's cell phone service provider as well as a loan company that sends consumers targeted SMS.

Another important and recurring conversation that took place over the four days concerned sexual rights and online privacy. In small and large groups, we reflected and built upon APC's Principles of a Feminist Internet (established in 2014). Out of these 17 principles where are clustered into five areas, the principle of pornography under expression became relevant to shaping and think about how to, as APC notes, reject "simple causal linkages made between consumption of pornographic content and violence against women." In this way, we were often challenged as a group to think about how to create spaces that were safe. Who do we know that has technical skills to build safe spaces? What are the resistance strategies for organizing safely, especially with the risk of state surveillance and intervention? These questions simultaneously happened while acknowledging how content labeled as "harmful content" or "pornographic" is weaponzied against marginalized bodies and sex positivity, those often being Black, fat, trans, or disabled bodies.

Apart from surveillance and privacy-related conversations, two interesting conversations addressed the questions "What are the feminist principles of intergenerational organizing?" and "What is the role of love and sex in feminist organizing?" In both of these break out sessions, participants began to share their stories about successes and failures in their organizing. In the case of intergenerational organizing, Ester Adhiambo noted that in their experience as a what would be called a gatekeeper position in the LGBT movement in Kenya, that young people often feel intimidated or unseen, maintaining a disconnect between the generations within the movement. This then prompted our group to think about how do we prioritize "passing the baton" strategies? How can we build strong online and offline movements? Who is often excluded, such as people without access, rural areas, women, gender non conforming people, older people, etc? This resulted in some ideas about holding regular forums, encouraging and establishing mentorship, and consistent dialogue in order to incorporate new language but also honor and understand previous work that has been done in an effort to learn from this.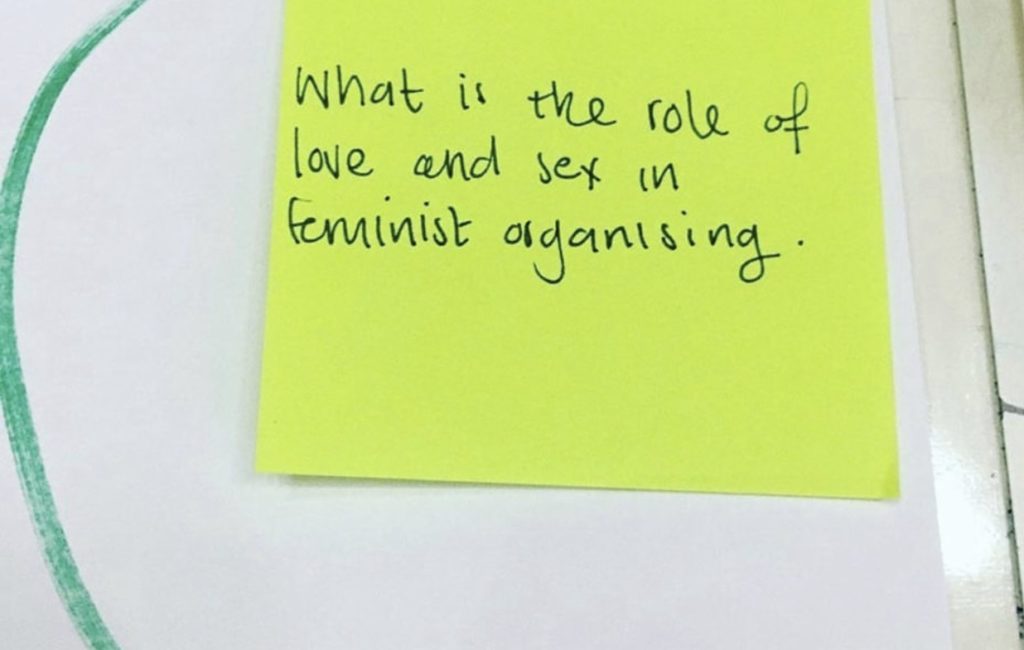 Within the conversation about the role of love and sex, there was sentiment of needing infrastructure and boundaries. While we acknowledge the joys of working together, especially in queer spaces, there can be a dishonesty about hierarchy under the guise of "community building." This is to say that many felt disillusioned by organizing, especially paid organizing or NGO-led feminist or queer campaigning that claims the mantle of being un-hierarchical while nevertheless maintaining pay hierarchies. In this case, many people emphasized that it is important to have a sense of love about our organizing but rigorously commit to transparency in to help alleviate recreating violent capitalist systems by ignoring their violence.

There was also various complex conversations about identity and language on the continent. One significant point was the exclusion of francophone African speakers in organizing and within the convening itself. Another was the complexity of Blackness and how "Black" does fit all those who are African, particularly those of North Africa. Another was the relationship of the continent with the diaspora (i.e. how proximity to white power structures does not equate to a dignified experience), and how do we understand each other's contexts without collapsing the space?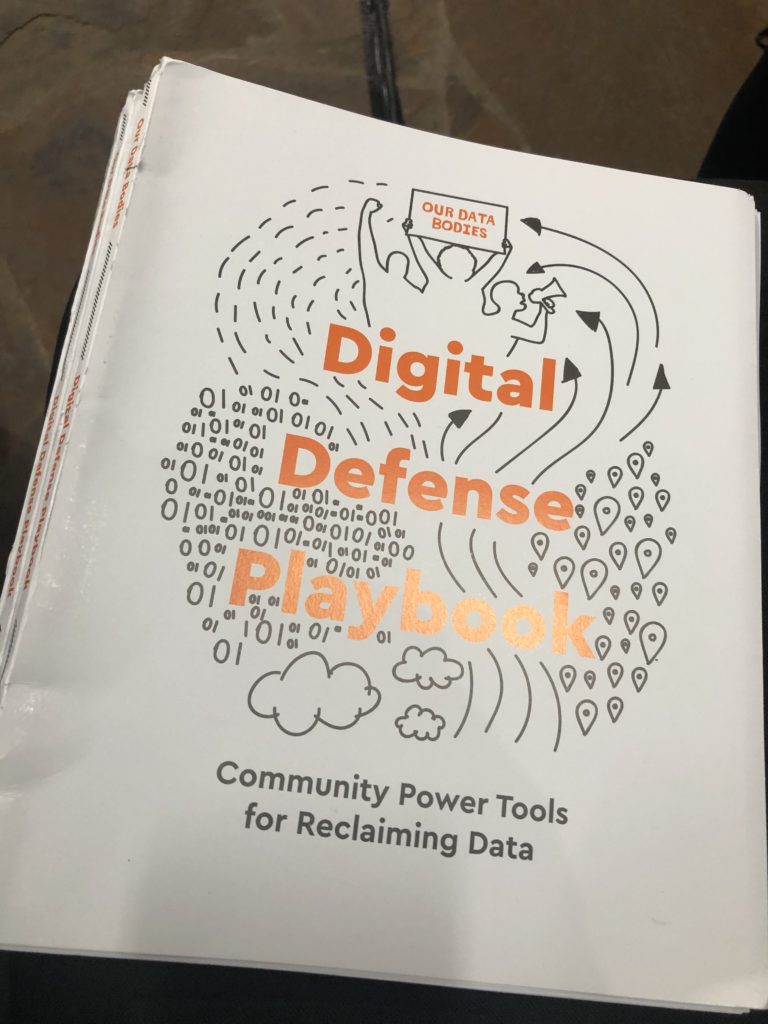 On the last day of the convening, MFIA had a "marketplace" where folks were invited to present on anything they wanted to share, whether it be a collaborative project, sharing ongoing work, or facilitating a conversation that could lead to a project or organizing. Kim shared the work of ODB, and invited conversation about surveillance and data in other contexts while also drawing comparisons between the landscape of the US and the landscape of South Africa (where Kim currently stays) such as the selling of South African telephone numbers resulting in mass unsolicited calling and texting from a political party, the Democratic Alliance, during the national election earlier this year.

Overall, ODB was honored and excited to be a participant in such an important and expansive and loving convening. Kim walked away enlightened, engaged, energized, and overwhelmingly grateful. Thank you to APC and all those who made such a convening possible, and of course a thank you to all the participants who made it the space so rich.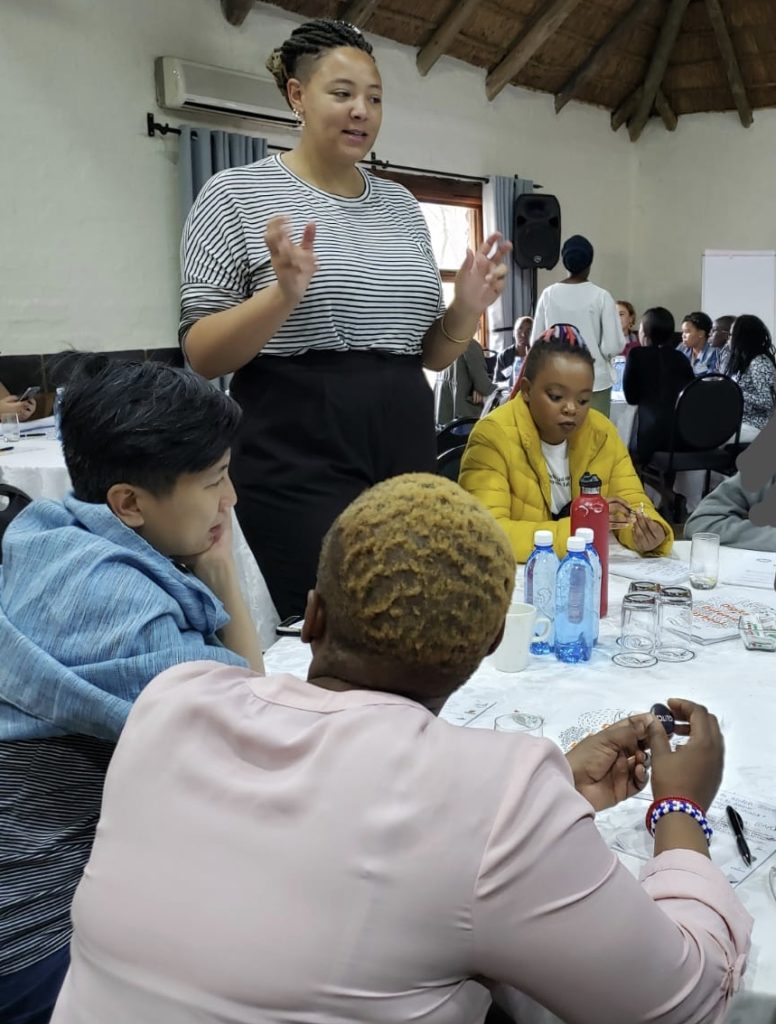 Watch this space with updated links to other projects that came about through the convening as well as ongoing work in this field on the continent:
Coalition of African Lesbians (CAL)
Minority Women in Action (MWA)