AMC 2022 Preview: A Look into the Abolish Carceral Tech Track
ODB member Seeta Peña Gangadharan worked with Sanne Stevens, Co-Director of the Justice, Equity, and Technology Table, and Safia Oulmane, member of the Justice, Equity, and Technology Table to co-organize the Abolish Carceral Tech track at the Allied Media Projects Conference this year. In this post, we preview interviews conducted by Safia with a sample of presenters from the track.
This year's Allied Media Projects' Conference, AMC 2022, is another year of incredibly rigorous, engaging, and diverse gatherings. The AMC Conference gathers activists, cultural workers, organizers, artists, and many more to convene around and share strategy of community building, policy making, and future making.
One of the tracks at AMC 2022 this year that we at ODB are excited for is the Abolish Carceral Tech track, which was co-organized by ODB member Seeta Peña Gangadharan and Sanne Stevens, Co-Director of the Justice, Equity, and Technology Table, and Safia Oulmane, member of the Justice, Equity, and Technology Table. Their curation has led to 12 presentations at AMC 2022 covering topics like prison abolition efforts and network gatherings, workplace organizing at amazon warehouses , and antagonizing policing on stolen land.
Safia Oulmane spoke with three of the session leads who will be presenting at AMC to learn a little more about the work they are doing and where that work allows for solidarity and connection. 
From Data Criminalization to Prison Abolition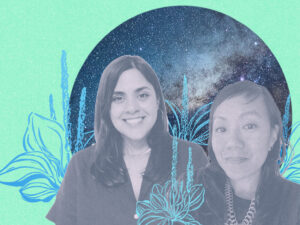 Safia interviewed Ana María Rivera-Forastieri and Puck Lo about their work in migrant justice and research
at Community Justice Exchange (CJE). Below is an excerpt from their interview, which can be read in full here 
"In their session, the CJE reports on the interlocking machinery of migrant surveillance and "data criminalization;" the creation, theft, archiving, resale and analysis of datasets culled from state and commercial sources that supposedly designate threats and risks. CJE asserts that these datasets are inherently illegitimate and that creation and use of them should be abolished. Petitioning legislators and corporations for increased oversight and to respect privacy rights is not enough. In this age of biometric theft and digital extraction, it is now more than ever that we ought to rethink community safety and health. Ana and Puck tell more about their work, background and the reasons they organised this session."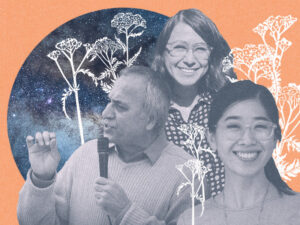 Exposing Algorithmic Ecologies
Safia also spoke with Free Radicals Organizer, Alexis Takahashi , about the organization's framework of algorithmic ecology and resisting and working to abolish carceral and predictive policing apparatuses. Below is an excerpt from their conversation which can be read in full here 
"During the conversation, organisers stressed the need to go beyond asking how policing and carceral technology can be changed, but to ask why that technology exists in the first place. In their organising work, they wondered how, as activists, they can demystify public discourse around algorithms, for which there is a deliberate fog, created to keep people busy and confused. The purpose of the algorithmic ecology created by the Stop LAPD Spying Coalition in collaboration with Free Radicals is to dispel that fog and to demystify algorithms so people can take it back in their daily lives.
Time and again, organisers emphasised the importance of daily life. Abolition is not limited to one campaign or struggle. It's our day to day existence because algorithms rearrange our relationship to power in very insidious ways; they rearrange how we think about ourselves in relation to power. Today, the word "algorithm" is used in the context of technology, but if we were to draw into the analog world, we can see that algorithms have always been there via the written word, from policy development to structures of enforcement. These are algorithms which rearrange our relationships to power with the goal of social control and submission. As a tool for abolitionists, algorithmic ecology breaks the chain of submission."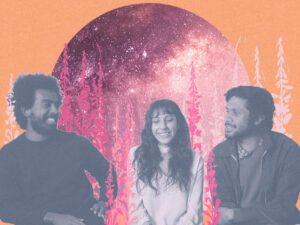 Data-Driven Policing on Stolen Land
Lastly, Safia spoke with session organizers Matyos Kidane and Ni Anaya about policing and its colonial origins, amongst many other topics. Below is an excerpt and their full interview can be read here
"Colonisers have always used data to subjugate people and violently possess land. Today's so-called "data-driven" policing – such as through the use of algorithms and predictive analytics to target people and places – is a continuation of that history. In Los Angeles, California, the Stop LAPD Spying Coalition organises against these tactics. In their report Automating Banishment: The Surveillance and Policing of Looted Lands, the Coalition explores the relationship between policing and land in Los Angeles, exposing the relationships between policing, displacement, real estate development, and conquest.
"At the 2022 Allied Media Conference, Stop LAPD Spying Coalition will share the findings of the report. Using interactive tools, they will help session participants uncover shared logics and harms among their diverse experiences. The Coalition will also map out how such experiences are interrelated through industrial, non-profit, and academic complicity in policing. Rather than seeking to reform, regulate, or refine data-driven policing technologies – as has been the predominant approach across the United States – the Coalition aims to abolish them while seeking reparations for communities who have been harmed."