Our Data Bodies and Open Secrets went to RightsCon 2023!
Earlier this year, Our Data Bodies attended the RightsCon Conference that took place in San José, Costa Rica. It was a complicated affair that came with great connections, but incredible disappointment in the conference's handling of the realities of racism, colorism, imperial borders, and government negotiations. Overall, it was a complicated, connective time.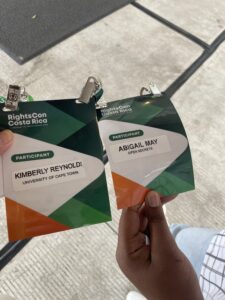 Our Data Bodies partnered with Open Secrets to de liver an interactive workshop titled: From South Africa to the US: How data collection can reproduce marginalisation and coloniality. Kim M Reynolds of ODB and Abby May of Open Secrets delivered this workshop to an audience of 85- the session was fully booked!
The workshop functioned as a knowledge-sharing and creation intervention focusing on data collection and the right of refusal. This workshop was also a continuation of our prior collaborative work between OS and ODB with the intention to:
Demonstrate the overlaps between discriminatory technologies in South Africa and the US, largely through looking at ODB's Oral Histories Project, and Open Secrets work on digital profiteering and the precarious issues surrounding the digitizing of social grants in South Africa
Walk participants through registering for a social grant in SA and identify privacy policies as well as discriminatory features of the app (language, mobile data, etc) and analyze that through Our Data Bodies' methodology of mapping a data body 
The workshop began with an opening activity at the table, where participants pooled their experiences and responses to our question, "How much data did you have to provide and give up to get here today?". Responses ranged from applying for visas to even one participant shared that they had to disclose their blood type to apply for a visa to Costa Rica and funding.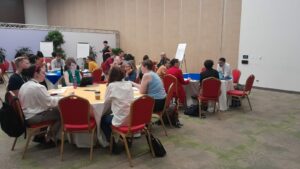 This generative conversation then launched the first half of the workshop where Abby shared context and details about the social grant system in South Africa, which is included in Open Secrets' Digital Profiteers work. She highlighted that the ramifications of apartheid and inequality are upheld through the state and the mismanagement of the social grant system. In the last few years, the South African government has introduced a digitized means of receiving grants, which differs from the method of going to a physical place like a bank or post office, but it is riddled with privacy concerns around data storage. A private corporation is administering the grants through an app called GovChat, for free, for the South African government, illuminating a concerning collusion between government and the corporate sector. Abby painted a picture that demonstrates that digitizing a grant system cannot be defined as convenient or as progress, and therefore enlisting a private entity to store incredibly sensitive and extensive data about individuals as well as administer social grants is concerning, to say the least. If an app that is only available in English, requires an internet connection, and is unclear in where and how information like your ID number, income level, income level of the people in your house is stored and used, then it by definition is not accessible and in some ways, unsafe for users. 
Kim then built off of this point by discussing the ODB Oral Histories project, and what was revealed from speaking with several organizers and cultural workers who have been steeped in resisting discriminatory data,0 everything from facial recognition technology to police 'gang' databases. This then also led to a discussion about ShotSpotter, a gunshot detection technology created in america and being utilized in South Africa to police and surveil working-class communities that were spatially created as a result of apartheid. 
The second half of the workshop was an interactive piece, where each table registered for a social grant in SA. As the table registered, we asked participants to note what they may flag as an issue or barrier in the user experience, as well as take note of just how much information they are required to give away to get a grant.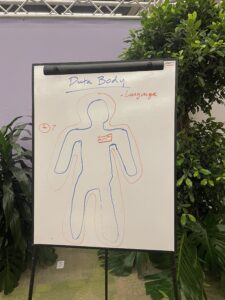 We then mapped these responses on a data body and had an illuminating plenary about observations made by the workshop participants, as well as participants sharing their experiences in their varying contexts. For example, two participants from Brazil and India shared similar concerns with their county's social grant systems, noting that there is a big grey area around how stores this information in a corporate body and if that company gets sold or goes under, what happens to everyone's personal information, which has grown to include things like biometrics. 
We discussed the discriminatory nature of even filing one's name in a government system in countries that are dominated by whiteness, and white cultural norms, therefore making having multiple names or surnames an issue within qualifying for government assistance.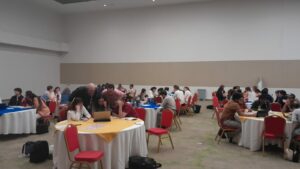 We closed the workshop with thanks to everyone who participated and continued the conversation as the next workshop was coming in. 
While our shared workshop went well, we want to extend immense thanks to the organizers of Organizing toward anti-colonial digital futures (including Sarah Chander, Laurence Meyer, and others) for their organizing work around addressing the incredible racism that happened at the borders of Costa Rica and Panama, where nearly every Black participant at the conference experienced profiling, excessive questioning, passport withholding, and in the worst cases, detainment and deportation. The festival organizers had previously arranged for 300 visas upon arrival for participants whose countries didn't have a costa rican embassy, which is mostly African countries. An announcement was made two weeks before the conference that this would not be upheld. The RightsCon upper management poorly managed this as well as addressing the immense hostility that people were experiencing in trying to come to the conference. A BIPOC group was formed to support the well-being of participants here as well as organize how to hold RightsCon accountable and seek legal recourse for the instances of racism endured. 
Overall, RightsCon seemed to overly prioritize the input and presence of US state representatives discussing internet security, which is ironic given the US's history of the internet and in-person surveillance and subsequent targeting and assassination of many left, Black, and indigenous organizations, as well as other corporate interests. It's unclear how the conference will be received as it moves to South Korea for its next iteration. 
ODB and Open Secrets will continue our working relationship and what collaborations may come next.